Gunnar Nylund - A glazed stoneware sculpture of a Rhinoceros - Rörstrand, Sweden ca. 1955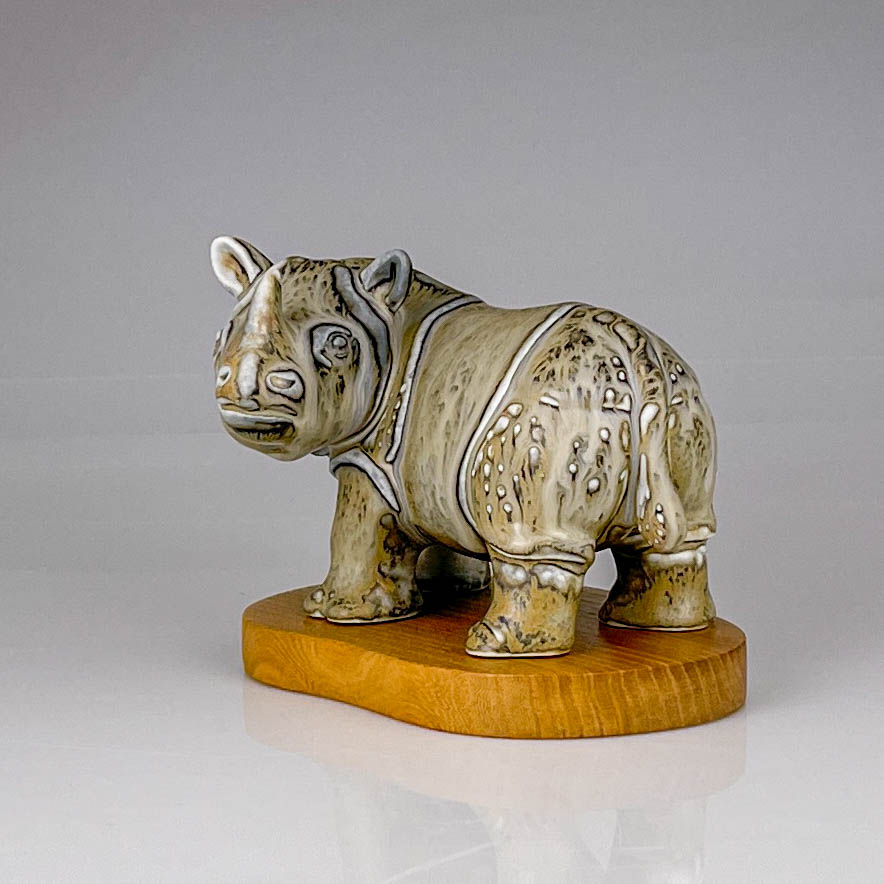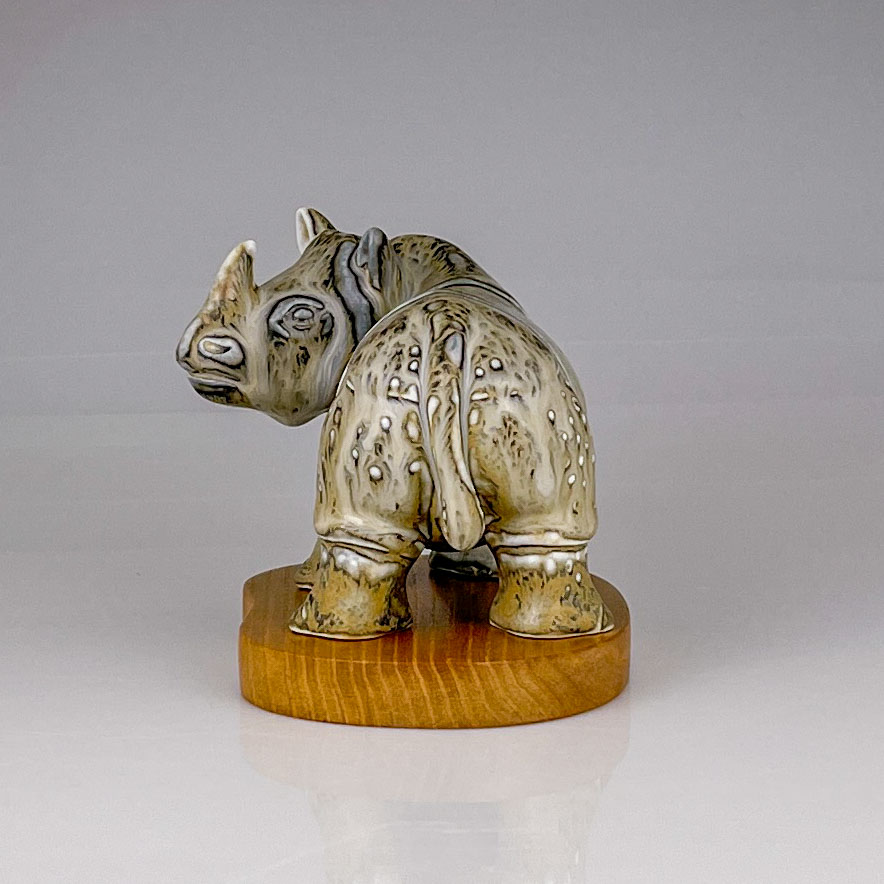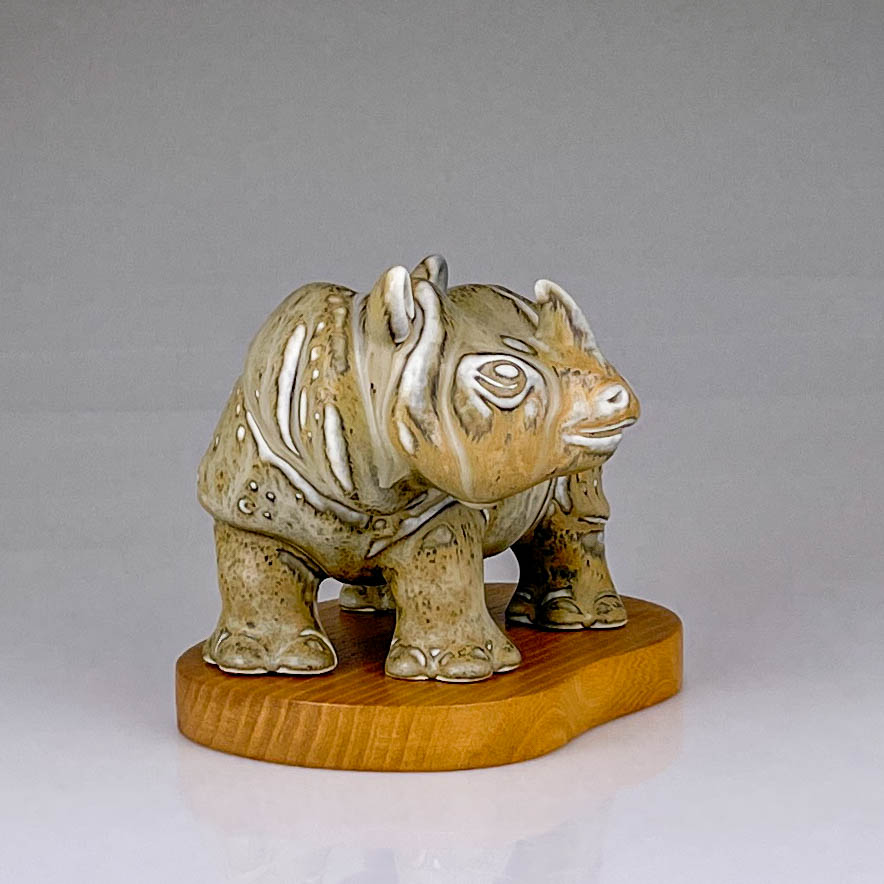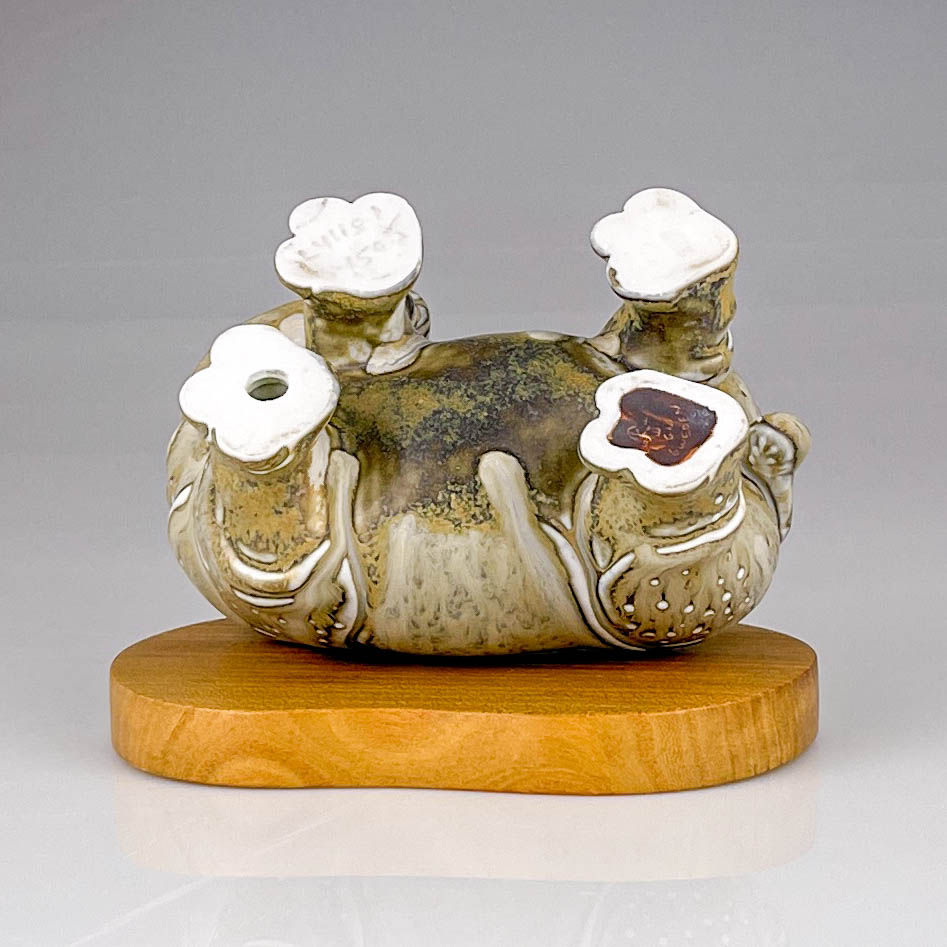 Gunnar Nylund - A glazed stoneware sculpture of a Rhinoceros - Rörstrand, Sweden ca. 1955
A stoneware sculpture of a Rhinoceros, finished in a grey, cream and lightbrown glaze on a original wooden base.
This sculpture was designed by Gunnar Nylund and executed by the Swedish ceramics factory Rörstrand in the 1950's.
It is fully signed underneath: R (Rörstrand) Sweden with 3 crowns (after 1951 Rörstrand changed to the international spelling Sweden) and GN (Gunnar Nylund). It lacks the post 1960 VDN markings, so this piece was made between 1951 and 1960.
Price including VAT: Sold
About Gunnar Nylund
Gunnar Nylund (1904-1997) was a Swedish artist, ceramist and sculptor most known for his work for the Swedish ceramic manufacturer Rörstrand.
He was born in Paris to a Danish mother and a Swedish-Finnish father, both artists. His mother Fernanda Jacobsen-Nylund was a ceramist and his father Felix Nylund a sculptor. He grew up in Helsinki and moved to Copenhagen in 1917. In Denmark he received his education as an architect at the Royal Danish Academy of Fine Arts in the 1920's. In 1929 together with Nathalie Krebs he started a ceramics workshop Nylund og Krebs that later was renamed to Saxbo.
In 1931 Nylund started working for the ceramics manufacturer Rörstrand in Lidköping in Sweden, becoming Rörstrand's artistic director in 1937 and he continued to work there in this position until 1956. In this period Nylund became well known for his innovative feldspar glazes - popularized by renowned ceramists Berndt Friberg and Carl-Harry Stålhane - and his glazed stoneware animal sculptures.
After his time at Rörstrand he became artistic director at the Strömbergshyttans glassworks in Hovmantorp, Sweden and in the early 1960's worked for the Nymölle Keramiska Fabrik in Lyngby, Denmark where he started producing stoneware.
Nylund crafted some 30 reliefs and sculptures commissioned for public spaces and many of his sculptures are part of museal collections ie: The National Museum in Stockholm, the Sèvres museum in Paris, the Röhsska museet in Gothenburg, the Ateneum museum in Helsinki and the Danish Museum of Art & Design.
Rörstrand, Sweden between 1951 and 1960.